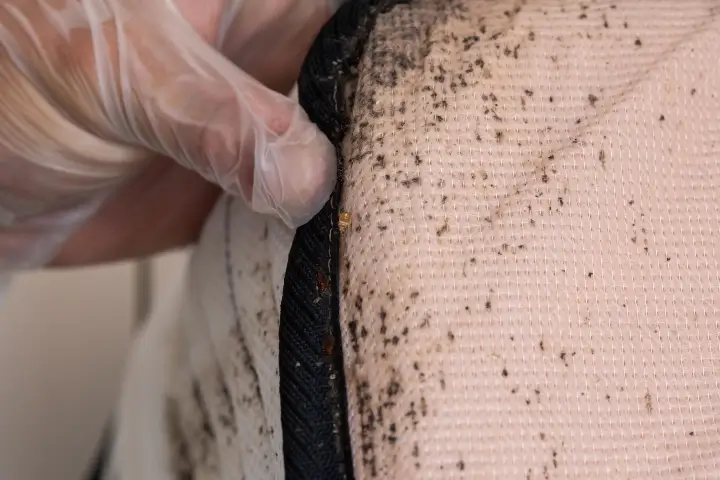 Bed bugs are small, wingless insects that feed on the blood of mammals, especially humans. Did you know that bed bugs can survive for up to a year without feeding? That's right, they can go for months without a blood meal, making them incredibly difficult to get rid of. They are often found in homes, hotels, and other places where people sleep. They spread by jumping into luggage or onto clothing, or hitching a ride on used furniture that's brought into a house. Bed bug infestations can be difficult to get rid of, so it is important to be able to identify the signs of a problem early on.
Let's talk about some of the common signs of bed bugs.
What are the common signs of bed bugs in your home?
Unlike ants which can be found all over the house, bed bugs are most often found in bedrooms near beds or common areas near sofas. They congregate near where people sleep or rest. Some common signs you might have bed bug include:
Bites: This is the first sign of bed bugs for most people are the itchy red bumps that appear in clusters on the skin. Bed bug bites are small and uncomfortable, but generally harmless, although you should see a doctor if you think you're having an allergic reaction.
Bloodstains: After gorging themselves on your blood, bed bugs may leave bloodstains on your sheets, mattress, and bedding.
Feces: These small, dark spots on bedding, furniture, and other surfaces can trigger allergies or asthma in individuals.
Eggs: About the size of a pinhead, bed bug eggs are white and ovular. They're often found in cracks and crevices, like the seams of mattresses, furniture, and baseboards.
Live bed bugs: Sometimes, the first sign of a bed bug infestation is a live bed bug. If you spot just one, you can be certain that there are many more.
Need a Bed Bug Treatment Estimate?
Click below to leave your information and we will call you right back!
Can you have bed bugs without seeing them?
Yes, it is possible to have bed bugs without seeing them. Bed bugs are very good at hiding, and they can often be found in cracks and crevices where they are not easily visible. However, there are a number of signs that can indicate a bed bug infestation, even if you don't see the bugs themselves.
Bed bug infestations can be difficult to get rid of, which is why, if you think you have bed bugs, it's important to act quickly. With professional help, you can get rid of them and get your home back to normal. If you notice the common signs of bed bugs, give Lookout Pest Control a call for no-hassle removal.
Back to Bed Bug Treatment
Common signs of bed bugs in Georgia and Tennessee
Serving the Chattanooga Metro Area
Dade | Walker | Catoosa | Chattooga | Floyd | Polk | Carroll | Whitfield | Murray | Gordon | Bartow | Douglas | Gilmer | Pickens | Cherokee | Fulton
Marion | Sequatchie | Hamilton | Henderson | Davidson | Rutherford | Coffee | Franklin | Cumberland | Bledsoe | Rhea | Meigs | McMinn | Bradley | Roane | Loudon | Anderson | Knox | Blount